Lewis Hamilton led from start to finish, despite Max Verstappen tailing him closely, to win the Monaco Grand Prix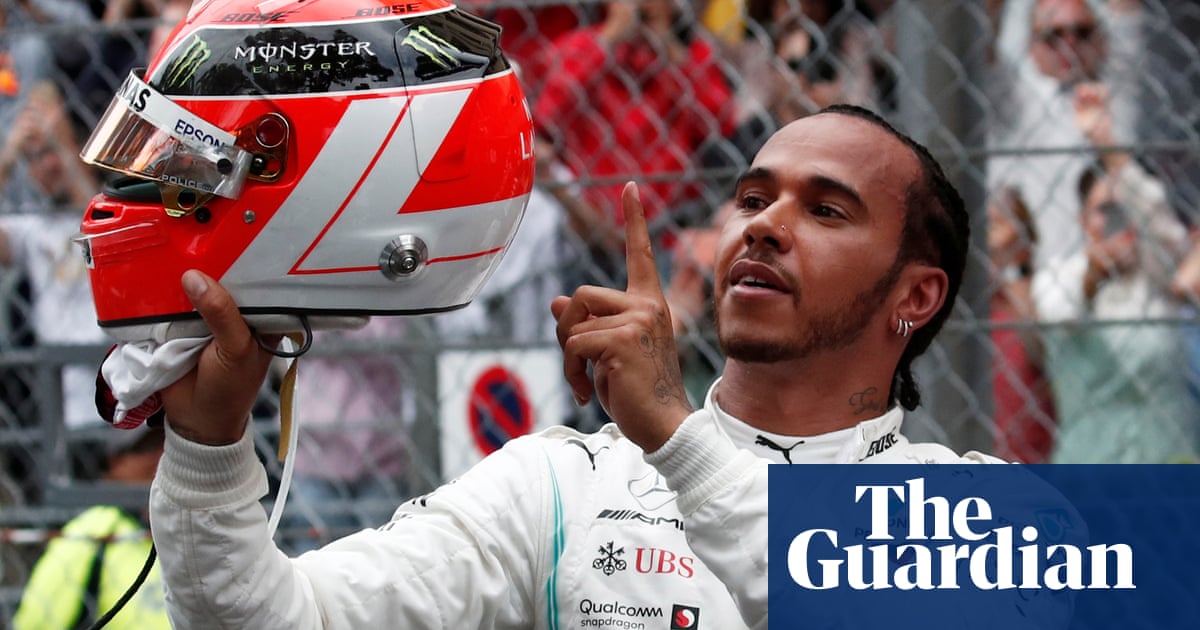 Sporting a helmet styled in the same design as Niki Laudas in his final championship winning season for McLaren in 1984, Lewis Hamilton delivered the win in Monaco he so dearly wanted to honour his friend. A victory ground out though tense, nerve-racking effort, of sweat and seat-of-the-pants determination, it is surely one Lauda would have admired and acknowledged as thoroughly deserved.
Hamilton had been emotional after taking pole and was once more moved to dedicate his win to Lauda as he celebrated with relief as much as ecstasy, that included hurling himself into the swimming pool at the harbours edge. He described it as his hardest race and, while it was certainly not the most thrilling, he had to remain inch-perfect and fully focused from flag to finish. Grinding out a win on the wrong tyres, despite being harassed by Max Verstappen to the end, was exactly the sort of dogged indefatigability that Lauda displayed and had admired in Hamilton.
That was definitely the hardest race Ive had but nonetheless I was fighting with the spirit of Niki, Hamilton said. Hes been such an influence in our team and I know he will be looking down and taking his hat off. I was trying to stay focused and make him proud.
He took the win from pole in front of Ferraris Sebastian Vettel in second and his teammate, Valtteri Bottas, in third. Red Bulls Verstappen was in fourth after finishing second on track, harrying Hamilton to the flag. But he had incurred a five-second penalty for an unsafe pit release and that demoted him. The win gives Hamilton a 17-point lead over Bottas in the championship and puts him 55 points clear of Vettel.
He led off the line but it was the pit-stops that defined the shape of the race. Charles Leclerc had prompted a safety car because of debris when his charge from 15th on the grid came to an end with a puncture attempting to pass Nico Hlkenberg at Rascasse. The leaders all came into the pits but Hamilton was the only one to take the medium rather than hard tyres. He had 68 laps to make it to the end.
During the stops Verstappen was released from his box into Bottass path, the pair touched and the Dutchman squeezed Bottas into the wall. Verstappen came out in second on track and, with a puncture, Bottas returned to the pits immediately. The unsafe release by Red Bull was investigated by the stewards and Verstappen was given the penalty.
Lauda won twice in Monaco and his qualifying lap here in 1975 was so intense he said he was left trembling at its conclusion. Hamilton endured a similarly tense encounter. He has not enjoyed the greatest success on the streets of Monte Carlo. This is his 77th career win but only his third here, where he lives and where, after these efforts, he will have slept particularly soundly.
Original Article : HERE ; The Ultimate Survival Food: The Lost Ways
The best offers on the market today:
Roulette Boss - How To Win At Online Roulette Like A Boss!
Adios Gastritis - Grandes Ventas
Earn Money On The Internet
Nuevo Portal Online Para Agrandar_el_pene